Illegal cigarettes seized in north Belfast raids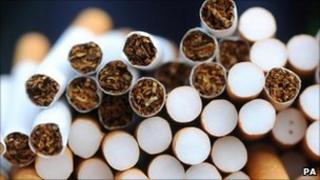 Illegal cigarettes and tobacco worth an estimated £20,000 in unpaid excise duty and VAT have been seized during raids in north Belfast.
Customs officers, supported by officers from the PSNI, searched domestic premises and vehicles in the Ardoyne area on Tuesday evening.
They seized almost 100kgs of hand-rolling tobacco, 20,000 duty free cigarettes and £10,000 in cash.
One man was arrested and questioned over the finds.
Brian Dixon of HMRC's Specialist Investigations said: "Tobacco smuggling is organised criminality on a global scale and robs the taxpayer of millions each year in unpaid duty and VAT."