'Highest cancer death rate ever' in Northern Ireland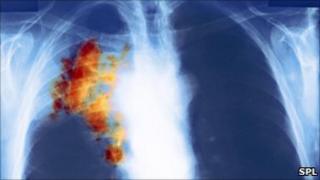 More people in NI died of cancer last year than ever before, but 2010 also saw the lowest ever overall death rate.
There were 4,000 deaths from cancer and the number of deaths due to suicide was over 300, also a record high.
Over half of all deaths in NI are caused by three main diseases; cancer, ischaemic heart disease (2,200 deaths) and stroke (1,200 deaths).
The findings come from provisional mortality statistics released by the NI Statistics and Research Agency (NISRA).
The statistics show that there were 14,500 deaths registered in 2010, a small increase of 0.3% on the previous year. However, NISRA said that, because of an overall increase in population, 2010 had the lowest death rate in the history of Northern Ireland.
"The fall in mortality witnessed over the last number of decades has helped drive the ageing of the population," a statement from NISRA said.
"One outcome of this is the increasing number of deaths of the very elderly; indeed last year saw the largest number of deaths of centenarians ever (107 deaths).
'Biggest single cause'
"Cancer remains the biggest single cause of death, while the numbers of those dying of ischaemic heart disease continues to fall."
Other findings contained in the report include:
More deaths occur in winter: On average there are almost 18% more deaths in the winter months of December and January than the monthly average.
In 1980, 3% of all deaths were of children aged 0 to 15; while in 2010 this had reduced to 1%.
In 1980, 14% of all deaths were of those aged 85 years and over, while in 2010 this had risen to 31%.
In 2010 the average age at death was 71.5 years for males and 78.2 years for females. This is an increase of five years for males and six years for females over equivalent figures from 1980.
During 2010 there were nine deaths registered where swine flu (H1N1) was mentioned on the death certificate, this is a decrease from the 14 deaths registered in 2009.
Over the past 30 years the number of stillbirths and infant deaths have both fallen by around 60%.
The report is available for download on NISRA's website.