Duncairn Presbyterian Church to become arts centre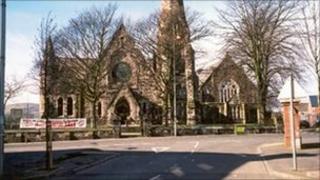 The former Duncairn Presbyterian Church in north Belfast has been awarded a grant of almost a million pounds.
The money from the Heritage Lottery Fund will be used by the 174 Trust to transform the building into a centre for arts, culture and heritage.
The site was acquired by the organisation in 1995 and is used as a venue by local groups and organisations.
Bill Shaw of the 174 Trust said it was a great boost for the wider community.
"The grant will not only allow us to provide for the needs of an increasing number of local people but will provide an attractive venue for a whole new range of activities and events that will draw others from a wider geographical area into this part of the city," he said.
The church building has suffered serious deterioration from weather damage and vandalism over the last 10 years and is currently considered 'at risk'.
The trust said the new project would restore the "historic fabric" of the church building and its linked halls and manse.
Extensive conservation work will be carried out to preserve the building.
The restored church will contain a new welcome area, cafe, exhibition and theatre space, office accommodation and activity rooms.