Irish Health Minister 'committed' to Derry radiotherapy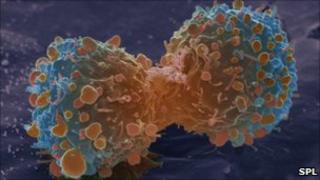 The Irish Republic's Health Minister has said his government is committed to a new radiotherapy unit at Altnagelvin Hospital in Londonderry.
Dr James Reilly said the unit was an "ideal solution" for the radiotherapy needs of people from across the north west of Ireland.
The Northern Ireland Health Minister, Michael McGimpsey, postponed the unit, saying funding was insufficient.
He said he was trying to establish if the Republic was committed to it.
'Fully supportive'
Mr McGimpsey had said that there was not enough money in the health department's budget to fund the unit.
"This project is also dependent on the new government in the Republic of Ireland, we must ensure they are still committed to contribute towards the costs of this essential scheme."
However, Dr Reilly said he had made a number of attempts to clarify his position.
"I wrote to the minister yesterday," he said.
"We had a number of attempted telephone calls which failed to materialise.
"I have restated very much the government's commitment to the Altnagelvin facility and we look forward to this happening when the new government is formed up there.
"But our position remains unchanged.
"We are fully supportive of it."