Sammy Wilson announces changes for empty shop laws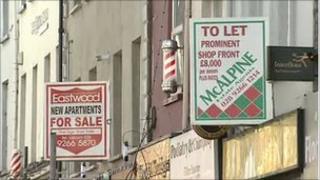 The finance minister has announced plans to give empty shops in town centres a new lease of life.
Sammy Wilson plans to change the law to allow community groups to use empty shop fronts for non-commercial purposes without paying full rates.
Under current laws businesses are penalised for making alternative use of empty premises.
Glyn Roberts, Chief Executive of the Northern Ireland Independent Retail Trade Association welcomed the move.
"While retail is the crucial element in a town centres, also many arts and crafts projects add something to our town centres," he said.
"If these vacant shops can be used to help these groups in a short term basis I think that is a very positive thing.
"It could take away from the awful look in some areas with the shutters down on many shops."