Funeral preparations for NI soldier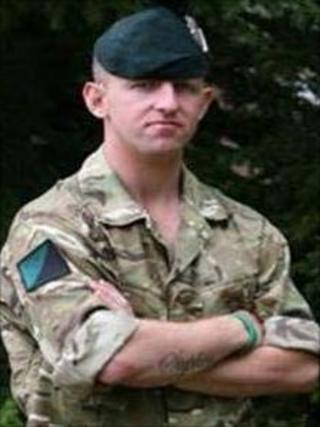 A Royal Irish Regiment soldier killed in Afghanistan will be buried beside his baby daughter on Saturday.
Lance Corporal Stephen McKee, 27, died when his vehicle struck a roadside bomb in Helmand province on 9 March.
His younger brother, who was serving alongside him, was one of the first to arrive on the scene.
He will be buried with full military honours at the New Cemetery in Banbridge following a service at Holy Trinity Church of Ireland.
Archdeacon John Scott, who will lead the service, said Corporal McKee's remains arrived back in Northern Ireland on Thursday.
He said the entire community in Banbridge was gearing up for a "massive funeral" and locals have been offering support to Corporal McKee's family.
His death is the second tragedy to hit the McKees in recent times.
"It is my daunting task to bring some sense of spiritual solace to a devastated family," said Archdeacon Scott.
"I had a very sad event a year ago when Stephen and his wife Karley lost a little baby."
L/Cpl McKee joined 3rd Battalion, The Royal Irish Regiment as a part-time soldier in 2003.
When the Home Service was disbanded he decided to transfer to 1st Battalion, The Royal Irish Regiment and he joined them at Tern Hill, near Market Drayton in Shropshire, in April 2007.
In a statement, his parents, from Banbridge, said they were very proud of all he had achieved.
"Stephen will now be reunited with his little girl when he is laid to rest beside her in Banbridge," they said.