Jump in A&E waiting times in NI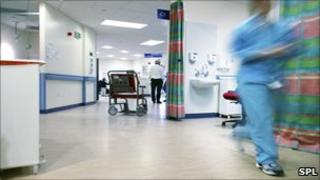 The number of people waiting more than 12 hours to be seen in emergency care departments increased last month, despite a fall in the number of patients.
There were 52,921 attendances at A&E wards in February 2011, compared with 56,476 in January 2011.
A total of 74% of patients were either treated and discharged or admitted within four hours of their arrival.
However, 1,338 had to wait more than 12 hours for care.
This compared to 1,236 in January 2011 and 702 in December 2010.
A report earlier this week concluded that staff in A&E would have to be more productive.
The Department of Health is also planning to introduce penalties if a patient has to wait for longer than 12 hours.
Chief executives from NI's five health trusts have received letters from the Health and Social Care Board informing them of the radical proposals, which could result in a £500 fine for each 12-hour breach.
However, the Health and Social Care Board said the penalty fines would be counterbalanced by an award for good performance.