Police apologise for silence over Odyssey riot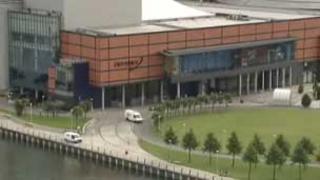 Police have apologised for not releasing information about a riot outside Belfast's Odyssey complex at the weekend.
Up to 100 people gathered outside the venue in the early hours of Monday, chanting sectarian slogans before violence broke out.
Nine people were arrested during the trouble.
A 28-year-old woman was treated in hospital for a facial injury and police used dogs to disperse the crowds.
The trouble flared at about 0030 GMT on Monday following an Old Firm football game between Glasgow Rangers and Glasgow Celtic on Sunday.
Police said the area returned to normal about an hour and a half later.
Clubs
Management at the Odyssey have agreed to a police recommendation for clubs to close at 2200 GMT for the next two Sundays, review cheap drink promotions and tighten up admission checks.
The agreement was reached at a meeting on Tuesday.
However, the agreement is not binding and it is up to the individual clubs to decide whether they close early.
A police spokesperson said it was stressed at the meeting that "concerted efforts would have to be made by all parties, including licensed premises to ensure public disorder was avoided".
"It was suggested that a voluntary reduction of trading hours on a Sunday night, reviewing alcohol promotions currently being run on a Sunday night and looking at door supervisory practices were aspects that could be altered to create a safer environment," the spokesperson said.
A spokesman for the Odyssey Trust said: "We concur with the PSNI's recommendation to close the clubs earlier on a Sunday night for the next couple of weeks in order to avoid a reoccurrence of this type of activity.
"We will continue to work as part of the security forum which includes the Harbour Police, the PSNI, the relevant Pavillion tenants and ourselves to coordinate the security effort and minimise the chance of any future trouble."