Domino's creates 100 jobs in Larne, Armagh and Carrick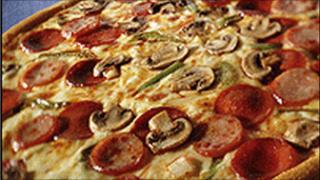 Domino's Pizza has said more than 100 jobs have been created by the opening of three new stores in Northern Ireland.
The stores, which all opened on Friday, are in Armagh, Carrickfergus and Larne.
The pizza delivery company currently operates in 18 towns and cities across Northern Ireland.
Chris Moore, chief executive of Domino's UK and Ireland, said: "We are delighted to be opening three new stores in Northern Ireland on one day."
He added: "Bringing 100 new jobs to the towns of Larne, Carrickfergus and Armagh is a fantastic achievement for us and a welcome boost for the local economies."