Will Executive grasp corporation tax powers?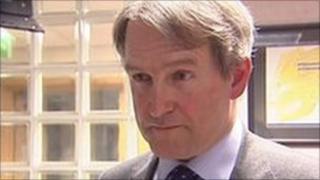 He may not look like much of a radical, but Owen Paterson's campaign to get Northern Ireland independent control of its corporation tax rate is the most radical economic initiative ever undertaken by a secretary of state.
It's clear that he's a massive fan of the idea.
It's also clear that, despite his protestations that the chancellor of the exchequer isn't "in the bag", the Treasury has conceded the principle of granting the power. That's a seismic shift.
Will the Northern Ireland Executive ask for the powers? Will the powers be used? And if they are used, will a reduction in tax work its magic on Northern Ireland's withered economy? Those are the unanswered questions at present.
The secretary of state has launched a three-month consultation exercise that will take us through the election period, after which decisions will have to be made by the Treasury and the Executive.
We can predict, with relative confidence, that the Executive will ask for the power and that a mechanism will be found to grant it.
What happens after that gets a lot more unpredictable.
The big imponderable for the Northern Ireland Executive is how much the prize will cost in terms of a cut to the block grant.
The principle of tax benefit balanced by grant cut is not negotiable - it's what allows this to happen under European law.
What is negotiable - or at least open to argument - is the precise formula by which these benefits and corresponding costs are calculated.
The key for the Northern Ireland Executive is to ensure it gets the formula right from the start - otherwise this could wind up being a very expensive exercise indeed.
The number of variables that have to be factored into the formula is huge, making the whole unprecedented exercise incredibly difficult to manage.
But if the Executive can get that formula right, and the mechanism to police it right, the potential benefits are huge and any loss of block grant will be more than offset by increases in employment and consumer spending.
But perhaps the most significant thing about any move on corporation tax from the Northern Ireland Executive would be the signal that the politicians have moved from taking risks for peace, to taking risks for prosperity.
On Sunday's Politics Show we'll be talking to the man leading that consultation exercise, Secretary of State Owen Paterson and looking ahead to the election campaign to come.
Jim