Majella O'Hare's brother responds to government apology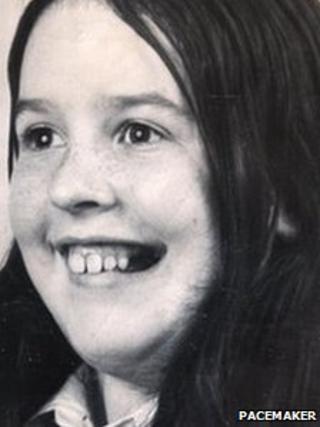 The brother of a 12-year-old girl shot dead by the Army in 1976 has said a government apology does not "bring closure to the family".
However, Michael O'Hare said it did "help reach an acceptance of what happened to Majella".
A letter signed by Defence Secretary Liam Fox was handed over to the family of Majella O'Hare on Monday.
It is only the second time an apology has been offered for incidents involving the Army during the Troubles.
The other was last year in relation to the Bloody Sunday killings of 1972.
Majella O'Hare, from the south Armagh village of Whitecross, was on her way to church on 14 August, 1976, when she was shot twice in the back.
Her brother said on Monday: "It's 35 years ago this year in August, the pain is still as much as in the days and months and years afterwards - it never leaves.
"It is not closure, but we have moved along the way. It has been a long time coming. It still does not avoid the fact that Majella is dead as a result of their actions."
At the time, Private Michael Williams, of the 3rd Battalion Parachute Regiment, claimed he had fired in response to an IRA sniper attack.
He was charged with manslaughter after the RUC's investigation, but was acquitted in court.
The letter signed by the defence secretary corrects the Army's account of the incident and acknowledges the soldier's courtroom explanation was "unlikely".
In August 2010, the Historical Enquiries Team (HET) said it supported the findings of the original RUC investigation into the death.
The HET is a specialist police team which was set up in 2005 to re-examine 3,269 murders from the Troubles.
An HET spokesman said: "The original RUC investigation found that Private Michael Williams was not returning fire at a gunman as he claimed and they recommended to prosecutors that he be charged with manslaughter.
"The prosecutors agreed and charged him with manslaughter, but he was acquitted.
"The HET supports the findings of the original investigation. We also said the RUC investigation was thorough and good."
Jane Winter of British Irish Rights Watch welcomed the apology, which she described as "unreserved and unconditional".
"It has been a long time - it's a shame it's taken so long - but at the same time I think it is welcome for the family," she said.
"The family have never wanted a second prosecution, what they wanted was an acknowledgement that what happened was wrong."