Elderly health 'put at risk' by 50kg bomb in Derry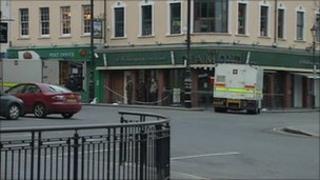 The manager of sheltered housing accommodation in Londonderry has said the health of residents was put at risk by an overnight bomb alert.
Around 40 people were asked to leave Alexander House after a "substantial bomb" was left in a stolen car near the city's courthouse.
The police said a beer keg in the vehicle contained around 50kg of home-made explosives.
The residents have now returned to their home.
Hazel Schwarz, the manager of Alexander House, said they were distressed at what happened.
"They were given such short notice to get out, for a start, and they didn't know when they would be let back in again, some of them were unable to take their medication.
"It was just very scary and we just waited and we had to find beds for these people.
"If somebody's on heart medication and they aren't able to get it, that's a big deal."
She said she was very angry that anyone could leave a device in an area with elderly residents.
"I feel disgusted. Just absolute disgust that they could do this to these people who just want to be left in peace.
The residents, she said, felt like they had been "targeted" by the bomb.
"We are out of our house, which is dreadful," one resident said.
"Some of us are not all that well at the moment."
Another resident struggled to understand what was happening.
"It's not very nice to happen. I don't see a reason for it.
"To me it's stupid."