Hazel Stewart launches double murder conviction appeal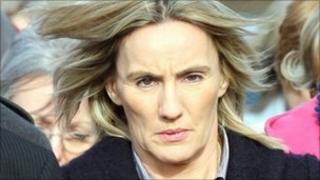 Former Sunday school teacher, Hazel Stewart, has launched an appeal against her conviction for murdering her policeman husband and ex-lover's wife.
Lawyers for Stewart, 48, submitted papers applying for leave to appeal against the verdict last week.
Stewart was found guilty of killing Pc Trevor Buchanan and Lesley Howell almost 20 years ago.
A judge will consider whether there are sufficient grounds for allowing a full appeal hearing to take place.
If the appeal proceeds it is unlikely to be heard before Christmas.
The appeal application was submitted on 23 March just ahead of the four-week deadline subsequent to her sentencing.
Stewart is in Hydebank women's prison in Belfast after being given an 18-year minimum term following her conviction for plotting with her former lover, dentist Colin Howell, to poison his wife and her husband in May 1991.
Remorse
The 32-year-old policeman and Mrs Howell, 31, were found in a fume-filled garage in the seaside town of Castlerock.
Police originally thought the pair had died in a suicide pact - triggered by their spouses' infidelity.
The truth came to light 18 years later when lay preacher Howell, apparently wracked by guilt, confessed to elders in his church that he murdered them and stage-managed the scene to look like they had taken their own lives.
He pleaded guilty to the murders last year and is serving a minium term of 21 years in prison.
The jurors in Stewart's 15-day trial at Coleraine Crown Court agreed that she knew about the plan in advance and, in the case of her husband, actively facilitated his killing by ensuring he was drugged and allowing Howell into her home.
They found her guilty on two counts of murder.
The mother of two did not take the stand during her trial, while Howell appeared as a Crown witness against over four days.
Since her conviction, Stewart's two children, Andrew and Lisa, have insisted their mother did not murder their father. Her second husband David Stewart, a retired senior police officer, has also stood by her.
Setting the minimum term Stewart must spend behind bars earlier this month, judge Mr Justice Anthony Hart said she had shown little remorse for her crimes.