Small bomb found off west Belfast's Grosvenor Road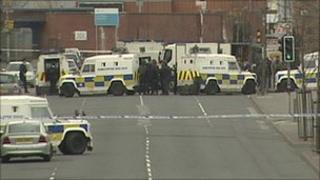 A small bomb has been found during a security alert in west Belfast.
The Army has recovered what has been described as "a small hand-held explosive device" found on wasteland off the Grosvenor Road.
Police have said it "could have killed or seriously injured anyone in close proximity had it exploded".
The device was found at the back of Michael Dwyer's GAA club in Gibson Street.
Earlier, a controlled explosion was carried out on the bomb.
About 30 homes, a doctor's surgery, a Fold housing development and commercial premises were evacuated.
Police said the security alert, which started on Monday morning, after a warning that the device had been left in the area, was now over.
The road closure has been lifted and the residents are being allowed to return to their homes.