Glengormley kidnap accused Jim Fittis refused bail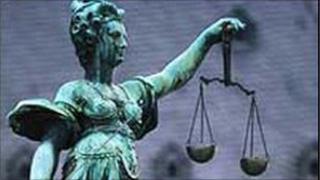 Prosecutors are to decide whether to bring new charges against a man accused of kidnapping and sexually assaulting a woman near Belfast, a court has heard.
Jim Fittis of Devenish Drive is accused of taking the alleged victim against her will in Glengormley in January.
On Monday, Mr Fittis was refused bail at the High Court.
A judge was told police have prepared a file on the 28-year-old Newtownabbey man in connection with similar allegations made by another woman.
Crown counsel Philip Henry said investigations have been carried out into other alleged incidents in the area involving a similar modus operandi.
He said a report has now been prepared in connection with one incident in October 2010.
"The PSNI file is being sent to the Public Prosecution Service for a decision on whether to prosecute in that case," he added.
Mr Fittis is accused of randomly picking up the alleged victim in Glengormley in January and driving her to a more remote location.
He claimed during police interviews that she had flagged him down and any encounter was consensual.
'Agressive in custody'
Opposing bail, the Crown counsel said Mr Fittis became aggressive in custody and stated he would challenge the woman if he saw her again.
He also remarked that Glengormley was "not a big place", it was alleged.
A lawyer for Mr Fittis claimed there were serious discrepancies between his client and the description given of the alleged attacker in the October incident.
He also argued that the comments the accused was said to have made in custody were either "of the utmost stupidity" or else related to issues about a suitable bail address.
But refusing to release Mr Fittis, Mr Justice Gillen said: "One of my fundamental duties as a judge is to ensure the weak and vulnerable are protected.
"Young women walking on their own... come into that category, particularly where there are predatory males about."
The judge stressed that he had no idea whether or not the accused would ultimately be convicted.
However, referring to his alleged remarks in custody, he added: "I find that a chilling comment for someone to have made who was charged with this offence."