Bust property firm Jermon Ltd costs NI banks £100m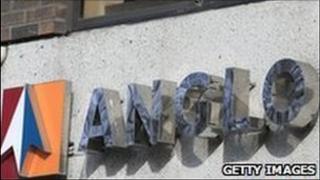 The collapse of a major Northern Ireland property firm is to cost its banks £100m.
Jermon Ltd was placed into administration in January.
In a statement of affairs, filed as part of the insolvency process, the company states its assets are worth £91m but its bank debts are £191m.
A further £4m is owed to other creditors, almost half of which is due in tax.
Jermon, which was controlled by Dungannon couple Peter and Jacqueline Dolan, grew rapidly during the property boom.
The firm owned office buildings and shopping centres in Northern Ireland, Scotland, England and Poland. However it suffered in the property crash and credit crunch.
It borrowed money from four banks, though it is not yet clear which will bear the heaviest losses.
The administrators report shows it owes £63m to AIB and £25m to Bank of Ireland.
The balance of £103m is owed to Anglo Irish and Bank of Scotland Ireland (BoSI).
Anglo Irish and BoSI are not part of the company administration process, instead they have been repossessing individual assets.
Among the assets BoSI has taken control of is a helicopter valued at £300,000.
The administrator has asked a solicitor to review each bank's security position and has also commissioned a surveyor to conduct a review of the property portfolio.
Ulster Bank
In a separate development the Ulster Bank can expect to lose £20m on loans it made to a County Down house building firm.
Thompson Lennox was placed into receivership earlier this year after suffering severe cash flow problems.
The company owes the bank around £23m but its assets are worth just £3m.
Those assets are a site at Station Road in Moneymore, which has planning permission for 201 houses, and a partially built development of 144 houses at Derryree Road in Lisnaskea.
Among the firm's unsecured creditors is a Moneymore man who is owed more than £2m. Given the huge collapse in the company's value he is unlikely to recover any of that money.
Last month the BBC revealed that the owner of Thompson Lennox, Sam Thompson, was being pursued by Anglo Irish Bank which claims he owes £90m in relation to personal loan guarantees.