Thin Lizzy's Gary Moore in candid BBC One documentary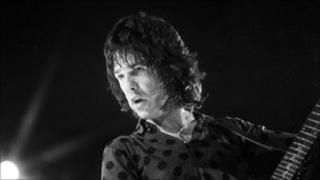 Stuart Bailie talks about the new BBC One NI programme Gary Moore - Still Got The Blues, and recalls his last meeting with the legendary musician.
I spent some quality time with Gary Moore in December 2006. We had arranged to meet in a bar near Brighton. He was happy to take part in a TV documentary about music from Northern Ireland and the guitarist was generous with his thoughts and his schedule.
Gary was modest about his achievements - this for a man who had been on good terms with George Harrison, Bob Dylan, BB King and Fleetwood Mac.
Other musicians we had interviewed for the programme had been less amenable, and there was diva behaviour and ego tripping at times. But not with Gary. He was blokish and funny with a George Best accent that wavered between east Belfast and Cockney barrow boy.
The only time he discussed the rock and roll lifestyle was when he explained what a waste of time it was.
Drugs had led to the premature death of his soul brother, Thin Lizzy's Phil Lynott. They had also been the cause of his departure from the band on a couple of occasions. Gary was no saint, but he had given his best hours to playing guitar, perfecting his skills and writing his tunes.
His father Robert had booked bands at the Queen's Hall in Holywood, Co. Down, and so he had been drawn to music from an early age. With a childhood spent battering out the chords to 'Sugartime', it was no surprise that he developed a life-long addiction to the blues.
It was this passion which led him to Dublin as a 16-year-old and landed him a job with Skid Row. The band leader Brush Shiels had been so keen to recruit the boy that he travelled to Belfast to meet his father and personally promised to take good care of him.
The spine of our documentary, Still Got the Blues, is a candid interview with the man himself in Brighton, less than five years ago. Gary had been in excellent health, with no indication that he'd be leaving us so soon.
He gave us over an hour of incredible stories to pick from. Like the time when he was given a beautiful Les Paul guitar from Fleetwood Mac's Peter Green. Or the tale of his first meeting in Dublin with Phil Lynott, over a few dishes of Chinese food. Phil scoffed the lot of course, and that, said Gary, was the foundation of their relationship. Lynott would take your food, your girlfriends and your song writing talents, but he was still a friend.
There wasn't any rancour in Gary's version of the story. He and Lynott argued and made up many times. Their partnership resulted in some timeless Thin Lizzy classics and in subsequent hits like 'Parisienne Walkways' and 'Out In The Fields'.
Brush Shiels is just one of Gary's old colleagues who takes part in the programme. There are also fond words from Thin Lizzy veterans Scott Gorham and Brian Downey, from Skid Row roadie Frank Murray and Hot Press editor Niall Stokes.
Like any TV documentary, the story has come together gradually, but as archive film is slotted in and beautiful little quotes find their place in the narrative, the emotion builds and we get the story of a singular guy with his music, his guitar and a career that's over too soon. We're still in love with him.
Stuart Bailie narrates Gary Moore - Still Got The Blues on BBC One NI on Tuesday 29 March at 2235 BST.