Mater closes A&E to emergencies over machine failure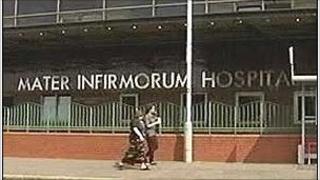 The Mater Hospital's A&E department was closed to emergencies for five days over a machine failure, it has emerged.
The Belfast Trust said the decision was taken because a CT scanner had broken. The department reopened on Monday.
All 999 calls and emergency referral patients were transferred from the north Belfast hospital to the Royal Victoria and Belfast City hospitals.
A Belfast Trust spokesperson said: "The CT scanner was out of action for a short time due to breakdown.
"This very specialist machine has now been repaired and all checks carried out before being put back in use early today.
"Emergency departments must have a CT scanner, therefore all 999 emergencies and emergency GP referrals were diverted to Belfast City and Royal Victoria Hospitals."
The A&E department was closed on Wednesday and reopened on Monday morning, once the CT scanner had been repaired.