Peter Robinson gives commitment to Derry radiotherapy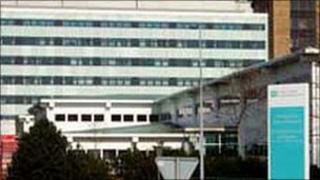 The First Minister, Peter Robinson, has given a commitment to a new radiotherapy unit at Altnagelvin Hospital.
Last week, the Health Minister, Michael McGimpsey, said funding was insufficient, and shelved it.
That provoked an angry reaction by campaigners who claimed the decision could put lives at risk.
Mr Robinson said it could be overturned on the basis of a cross-community vote.
He said that under the ministerial code the Executive, not the Minister, has the final say.
"We are going to proceed with the Altnagelvin extension for cancer care and that's the end of the matter," he said.
"The Executive is able to take this decision and the SDLP, Sinn Fein, and the DUP have now all said that they will go ahead with this project," he insisted.
The announcement has been welcomed by Karen Mullen from the Pink Ladies group, which has campaigned for facilities for cancer patients.
She met both Martin McGuinness, the Deputy First Minister, and Peter Robinson on Monday to discuss their position.
"We have got a commitment from them both that they will overturn this decision," she said.
Last week Martin McGuinness described the decision as "sectarian" and said he could "guarantee" to reverse it after the elections in May.
"We have a very high level agreement between our Executive and the previous Irish government which I believe will be maintained."
The Ulster Unionist Party have insisted that Mr McGimpsey's decision was taken on grounds of finance, not sectarianism.
In last week's statement, Mr McGimpsey said he remained committed to the future development of the Altnagelvin radiotherapy unit.
"However, the present budget proposal seriously undermines the ability to deliver this because of the absence of revenue funding and the reduction in capital resource available to my Department," he said.
The SDLP member of the health committee, Tommy Gallagher, said the delay was "heartbreaking and annoying" for cancer patients.
He accused Michael McGimpsey of playing politics.
"He is trying to get in behind the DUP in the run-up to an election."