West Belfast security van thief Gavin Wilson is jailed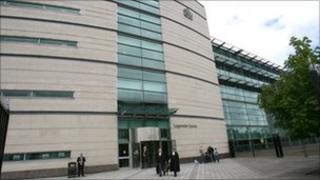 A Belfast man who stole a security van containing over £13,000 has been sentenced to 30 months' detention.
Eighteen-year-old Gavin Gerald Francis Wilson, of Lady Street, stole the van on 19 March last year after the driver had stepped out to assist a colleague.
Mr Wilson drove to west Belfast, where the van was "cut open like a can" and the money stolen.
The van had been collecting money from parking meters in Belfast when the theft occurred.
Defence lawyer Barry Gibson described the incident as an "opportunistic" robbery, in which Mr Wilson had been passing the empty vehicle and acted on impulse.
However, Belfast Recorder Judge Tom Burgess said that while the initial theft may have been opportunistic, the subsequent cutting open of the van "was a particularly deliberate, conscious, planned and wilful act of criminal damage and dishonesty."
Mr Wilson, who claimed he only received £470 from the takings, pleaded guilty to charges of taking and driving away the van, theft and criminal damage.
His sentence will be split between 12 months in custody and 18 months' supervised licence.