Military Cross winner Kylie Watson 'shocked by award'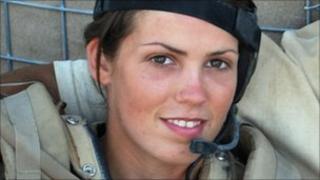 A British army medic awarded a Military Cross in Afghanistan has said she "didn't believe in a million years I'd get something like that".
L/Cpl Kylie Watson, from Ballymena, County Antrim, put herself in "mortal danger" to treat a soldier under heavy Taliban fire in Helmand last year.
She said when her commanding officer called her in to tell her of the award she thought she was in trouble.
"It's still a bit of a shock to the system," she said.
L/Cpl Watson gave medical care in exposed open ground for 20 minutes.
She had previously ran 100 metres in full view of the enemy under sustained fire to give life-saving first aid to an Afghan soldier who had been shot twice in the pelvis.
"We were under heavy fire and whenever you've got a casualty and it's your job to treat them you just go and treat them - I don't really think about it much at the time," L/Cpl Watson said.
"Then after it happened you think 'Oh my God, what have I just done, do you realise how dangerous that actually was'."
She said she was very proud of her award, but was only doing her job.
"Everyone does it, it's not just me, anyone would have done just exactly the same thing as I did in that situation. I just did my job," she said.
'Amazing'
Her parents, Glen and Lorna Watson said they were very proud of their daughter.
"She is just amazing, we don't know where she gets it from," Glen Watson said.
Her citation spoke of her "immense courage" and "inspiration" to her platoon in Helmand province last year.
Mrs Watson said her daughter, who serves as part of the Royal Army Medical Corps, had been bashful about the honour.
"She told us in her own typical laid back style.
"She was back home to be a bridesmaid at her sister's wedding and I think she didn't want to steal the limelight from her sister," she said.
"She's just very low-key, she said 'mummy, daddy, I've got something to tell you, I'm up for the Military Cross and its going to be presented by the Queen', it was a lot to take in."
L/Cpl Watson is believed to be only the fourth woman to receive the MC, the third highest award for gallantry.
Her parents said after the initial shock they were amazed by what their daughter had done.
"It doesn't surprise me with Kylie, it is just the kind of girl she is," Mrs Watson said.
"She hasn't really told us in detail what happened, I think she doesn't want us to worry.
"She just sort of said she went out to save ones under fire."
L/Cpl Watson's citation reads: "Watson's immense courage, willingness to put her own life at risk and absolute bravery saved the life of one warrior and acted as an inspiration to her platoon and their Afghan National Army partners."
Her parents said their daughter always knew she wanted to so something with her life to help other people.
Her parents said their daughter often works as a lone medic with about 200 soldiers.
L/Cpl Watson is among 136 service personnel, most of whom served in Afghanistan with 4 Mechanised Brigade between April and October last year, to be named in the latest military honours list.
Their awards will be presented at a later date.