Maghaberry prison note 'planted by officer': Ombudsman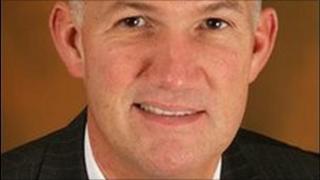 Police have launched an investigation after the prisoner ombudsman said a prison officer planted a note containing personal details about the governor of Maghaberry jail.
The note was found in the cell of a dissident republican suspect in December 2009.
The governor at the time, Steve Rodford, resigned a short time later because of fears he was under threat.
Pauline McCabe has completed a 15 month investigation into the incident.
She concluded the note was hidden in the cell by a member of staff opposed to planned reforms at the prison.
Mr Rodford resigned less than five months after he was appointed.
Security was one of the factors in his decision as his wife had left Northern Ireland weeks earlier because of concerns they were being targeted by dissident republicans.
Shortly before he left, a piece of toilet roll containing the governor's name and car registration were found during a search of a cell occupied by Brendan McConville, who is charged with the murder of police officer Stephen Carroll in Craigavon two years ago.
'Set up'
A lawyer for Mr McConville wrote to the prisoner ombudsman alleging that he was "set up" by staff opposed to changes and reforms being implemented by the new governor.
The ombudsman has now said that, "on the balance of probabilities" the note was planted in the cell by a member of prison service staff and that the purpose was to encourage the governor to reconsider the planned changes.
Ms McCabe has also concluded that prison staff leaked incorrect information to the media that Mr Rodford was being actively targeted by dissident republicans.
The ombudsman said there are reasonable grounds to indicate that one member of staff may have committed a disciplinary and criminal offence.
The police have now launched a criminal investigation.
In a statement, the prison service said it took the matter very seriously and had launched a disciplinary investigation, which has been adjourned until the police complete their inquiry.
It confirmed it had received a copy of the Prisoner Ombudsman's report following a complaint by prisoner Brendan McConville.