Derry man admits headbutt attack on postman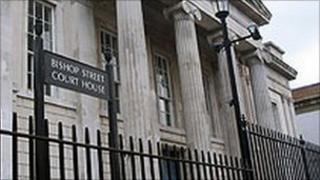 A Londonderry man, 28, who accused his postman of having his dole cheque and headbutted him, has been put on probation for 18 months.
Robert Emmett Canning, from Abbot's Walk in the Bogside, admitted carrying out the attack in Shipquay Street on August 19, 2009.
Canning assaulted three police officers as they attempted to arrest him.
District Judge Barney McElholm at Londonderry Magistrates Court ordered him to pay £130 compensation.
The judge also ordered him to complete 60 hours community service.
The court heard that Canning, who has 23 previous criminal convictions, shouted, "there's the postman with my dole cheque," before carrying out the attack.
Defence solicitor, Maolissa Barr, told the court that Canning, who is the sole carer for his elderly parents, accepted his actions were "despicable".