Department faces challenge from Muckamore patient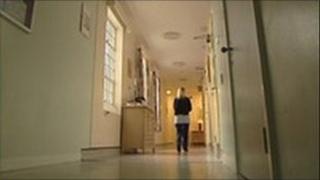 An adult with learning disabilities has challenged whether the Department of Health is acting unlawfully by not providing a home in the community.
The person, who is a patient at Muckamore Abbey Hospital in Antrim, was at the High Court on Tuesday.
The patient has been on a resettlement list for almost 11 years.
The Law Centre has said progress on resettling those with learning disabilities was too slow.
The patient who is taking this case sat in court listening carefully as a barrister described how in 1997 the patient had been detained under the mental health order.
However, in 2000, after being assessed, that changed to being a voluntary placement and the patient's name was placed on a resettlement list.
Almost 11 years on and that name remains there alongside 200 others.
Council for the defence argued that the Department of Health was in breach of both human rights legislation and twice had failed to meet government targets.
While Mr Justice McCluskey acknowledged the vast number of government strategies and policies on resettling patients over the past 40 years, he said very little had been implemented.
The department had set a target of 2002 to move long-stay patients back into the community.
Despite assurances from the government that something would be done, figures published by the Public Accounts Committee in April 2010 showed that there were still over 250 long-stay patients in specialist hospitals in NI.