500,000 euro butterfly farm opens in Donegal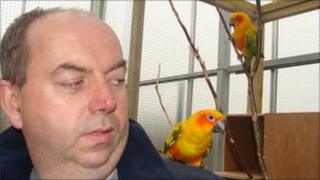 A Donegal family have invested half a million euro in a new butterfly farm to cater for schoolchildren.
Alcorn's Tropical World, on the grounds of a garden centre in Letterkenny, will have around 200 tropical butterflies on show, as well as exotic animals.
Two brothers and a sister, Clive, John, and Caroline Alcorn are behind the initiative, which will create three new jobs.
The centre will open officially on 4 April.
Tables painted in bright colours will have "nectar" available for the butterflies to drink.
"If you are standing still the butterflies will land on you and take off again like you were a tree in the middle of the jungle," Clive Alcorn said.
"We have to keep the temperature at 25 degrees to give them full flight potential."
There is also a collection of birds, reptiles, racoons; and a bearded dragon, which eats live locusts.
"The locusts have to be moving," Clive Alcorn said.
He said it had been a big investment in time and money, but he had no regrets.
"It's worth every second of it.
"To walk into a butterfly area and see 200 butterflies flying, as big as your hand, there's no experience like it.
"You have to be be here to actually see it and believe it.
"I would do it again tomorrow."