UUP's McNarry: DUP and Sinn Fein 'smug and arrogant'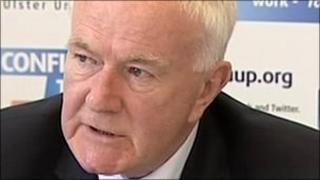 A senior Ulster Unionist Party figure has accused the DUP and Sinn Fein of "smugness and arrogance" in their handling of the economy.
David McNarry was speaking as he launched the UUP's economic proposals at a news conference in Belfast.
Mr McNarry said Sinn Fein and the DUP "cannot be given four more years" and he said the two parties had "run out of road".
He said the UUPs main economic priority was to protect jobs, and predicted the budget "will be unravelled" when the new assembly is formed.
'Naked'
"The DUP and Sinn Fein's way has run out of road," he said.
"They've pandered to each other for their own cosmetic fears, and they stand accused of economic negligence.
"They stand naked in front of the voter with neither a plan nor a strategy between them.
"Election promises are easily made but they have to be credible and they have to be doable."
When asked about the outcome of the election, he said it "would not be one of the best days if Martin McGuinness was first minister".
Mr McNarry also confirmed that he had apologised to UUP leader Tom Elliot for comments he made last week about his party colleagues Basil McCrea and John McCallister. He said the issue had been dealt with internally.