Chris Walker tells of son's meningitis tragedy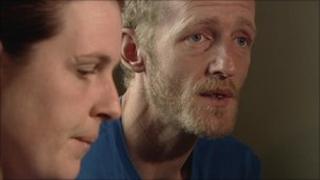 The parents of a two-year-old boy who died from bacterial meningitis last week have said doctors told them it was one the worst cases of the disease they had ever seen.
Jaxon's Kelly's father, former Glentoran footballer Chris Walker, said he could not believe how quickly his son deteriorated.
The child's parents want to raise awareness of the disease to prevent others suffering their heartbreak.
"It's about raising awareness now for us," Chris said.
"The thing they tell you for meningitis is to look for the rash, but with this strain if they have the rash it's as good as too late."
Jaxon had been with his grandfather during the day and had been playing normally in the morning.
He began to get irritable in the afternoon and after returning home he became sick and vomited.
His parents checked for a rash but none was there, and they thought he had picked up a cold that they had both had.
At 5am the next morning Chris noticed purple blotches on his skin.
They phoned an ambulance which arrived within minutes and took Jaxon to the Ulster Hospital in Dundonald.
Staff were waiting for him at the hospital and they tried to stabilise him for a journey to the Royal Hospital for Sick Children.
He was treated in intensive care there, but later died in the hospital.
Jaxon's mother Joanne Kelly said: "You couldn't put it into words.
"From five o'clock when we phoned the ambulance to the next time we saw him at intensive care in the Royal - because they didn't let us in for a few hours - he had gone from having a slightly purple rash to being completely purple from head to toe.
"Within a couple of hours and that was with medical assistance."
'Worst case'
Doctors told them it was one of the worst cases they had ever seen and asked permission to take pictures for a medical journal.
They also asked about using Jaxon's blood that they'd already taken out for other tests.
"Anything that can help one child to be saved from this, that's our main goal in life now," Joanne said.
"The survival rate for this strain of meningitis is so low that once the rash has appeared your child has very little chance.
"If your child has a temperature - even if they don't have a rash - keep looking for it.
"I know people don't want to cause a panic, because children do get temperatures all the time, but just be so aware that meningitis is a terrible disease.
"Don't just put them to bed and say we'll see how they go, keep an eye on them for any sign of deterioration.
"Just keep an eye on your children, they're so precious."