Queen's dresses displayed in Dublin ahead of visit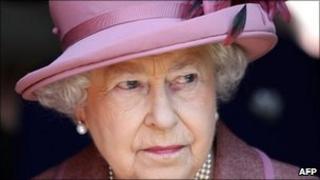 The Queen is making a historic visit to Dublin later this year, and part of her wardrobe has already arrived.
Twelve of her dresses, including one that is 50 years old, have been carefully carried across the Irish Sea and will go on display at a Dublin fashion event later this week.
The Queen has visited more than 100 countries worldwide but not the UK's closest neighbour, the Republic of Ireland.
All that will change soon when the Queen arrives in Dublin, probably in May.
In advance of the visit, the Queen is supporting a UK Trade & Investment event organised in conjunction with the British Embassy in Dublin.
Included in the collection of her dresses is a Norman Hartnell white satin ball gown worn by the Queen in 1961 on a state visit to Italy.
On display alongside the royal gowns will be 15 up-and-coming fashion and jewellery designers.
The British Ambassador in Dublin, Julian King, said: "I am delighted that Her Majesty has granted this rare loan in support of an event dedicated to the promotion of new British designers in Ireland.
"The fashion industry makes a powerful contribution to both the Irish and British economies, and Ireland is the UK's largest export market for its fashion, clothing and footwear," he said.
"This is an opportunity to celebrate our shared interest in cutting edge fashion and design."
Birthday dinner
In spite of the troubled political history between Britain and Ireland, relations have never been better.
The importance of Anglo-Irish trade links was seen last year when the UK agreed to give Ireland a separate loan as part of the country's international bail-out.
The Queen's gowns on display at Thursday's fashion show in Dublin include:
An Ian Thomas white short sleeved evening dress, worn by the Queen when President Ceaucescu of Romania came to London for a state visit in 1978.
A Stewart Parvin blue lace evening gown, worn by the Queen in 2002 at a state banquet whilst on a royal tour to Jamaica.
A Karl Ludwig full length evening dress in royal blue silk, worn by the Queen at a birthday dinner at The Ritz.
No dates for the Queen's visit to Dublin have been announced. An announcement is expected soon.
She may need to bring a large number of outfits as she is expected to stay for at least three days, and attend a number of state occasions.
It is highly unlikely that she will wear any of the gowns mentioned above.
Presumably, at some stage, she will wear something green.