Oldpark alert: Army carry out controlled explosions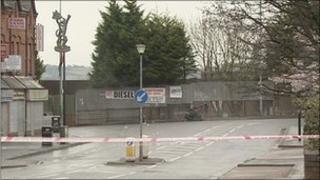 Police have said they hope a security alert in north Belfast will be over by this evening.
Army bomb experts have carried out two controlled explosions although nothing has been found so far.
Police have been carrying out searches in the Oldpark area since Tuesday after a bomb warning was received.
At one stage the police thought 200 homes would have to be evacuated. In the latest update police said that 20 families remained out of their homes.
The alert caused major disruption in the surrounding area.
The search is concentrated on an area at the junction of the Oldpark Road and Rosapenna Street.
Superintendent Amanda Cooke said: "We are doing a phased approach. It is a long and complex operation. I apologise to members of the public but I need to reassure them that this is for their own safety.
"We need to get in, we need to clear the area and ensure that everything is safe.
"I would like to thank people for their patience and ensure them that we will get everything cleared as quickly as possible and get everyone back into their houses."
Earlier on Wednesday, police confirmed that one telephone call had been made to the Samaritans about the device.
Police said a code word had been given but it was not a recognised code word.
The alert follows reports of a shooting incident in the Oldpark area on Monday night.
A number of shots were heard at Glenview Street off the Oldpark Road.
Bullet casings were found at the scene near the Oldpark Road, but no injuries have been reported. jolly.
Police said it was not clear if the incident was related to the security alert.