Northern Ireland is one of UK's 'debts hotspots'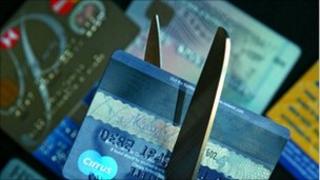 Northern Ireland has been identified as one of the UK's personal debt hotspots in a report by the Consumer Credit Counselling Service (CCCS).
The charity said it dealt with more bankruptcy cases in NI than anywhere else in the UK.
The report found many people are unable to meet their monthly outgoings and are at risk of falling into further debt.
CCCS spokesperson, Una Farrell, said people did not usually ask for help until the problem was very serious.
"Many people suffer from a budget deficit and as a result they sink into a bigger hole each month.
Insolvency
"There are a lot of myths around why people get into debt in terms of overspending but this is not always the case.
"In most cases it is an income shock, maybe people have lost their job through redundancy or have had a marital breakdown."
The charity looked at demand for its debt advice, the distribution of insolvency recommendations, as well as levels of disposable income among people who sought its help.
This led the CCCS to pinpoint problem debt in clusters, the two biggest were London and Northern Ireland.
According to CCCS statistics for 2010, London had the highest levels of demand for debt advice per population while Northern Ireland had the highest levels of bankruptcy and individual voluntary arrangement (IVA) recommendations.
The charity found that London and Northern Ireland were the only two regions where CCCS clients, on average, did not have enough income to cover their living expenses.