Man on trial for sex charges against 11-year-old girl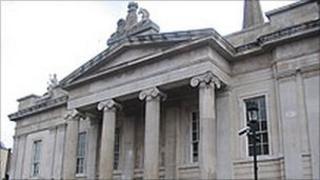 A 66-year-old man appeared at Londonderry Crown Court on Tuesday charged with sex offences against a child.
The man, who cannot be named to protect the identity of the 11-year-old girl, has denied the charges.
He pleaded not guilty to four charges of intentionally touching her sexually and denied making sexual comments.
The offences are alleged to have taken place in the man's car and his home between May and July 2009.
A prosecution barrister told the jury the defendant was a family friend, and lived nearby.
The barrister said the allegations against him were that he kissed the girl on the lips, touched her, and made gestures with his finger.
Inappropriately
The prosecutor said that before going to the police, the girl had become concerned about "inappropriate comments" the defendant had made to her, including telling her she was "a really sexy girl".
He described how on one occasion the defendant took the girl and three of her young friends in his seven seater car to the cinema.
The defendant allegedly insisted that the girl sat in the front seat with him while her friends sat in the two back rows.
During the journey the defendant is alleged to have touched the girl inappropriately outside her clothing.
The defendant was interviewed about the allegations by police and denied touching her in a sexual manner.
He said he touched her on the side of the leg while asking her to move her feet from the dashboard.
On Wednesday a 90 minute police interview given by the girl as evidence will be played in court.
The trial continues.