Illegal £20,000 Derry poker night brothers discharged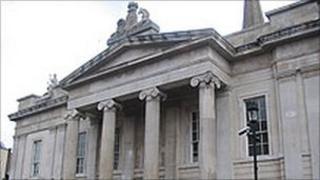 Two Londonderry brothers who admitted organising an illegal £20,000 poker night in December 2009 have been given conditional discharges for two years.
Paul Quinn, 49, from Amelia Court and his 42-year-old brother Terence, from Clipper Quay, appeared at Londonderry Magistrates Court.
The 'Texas hold 'em night' took place the River Club in John Street.
The jackpot money is to remain with the police until a Proceeds of Crime Application is finalised.
The prosecution barrister said the police received a number of complaints about the legal status of the Texas hold 'em night.
The police raided the premises during the card game and seized £20,000, 4,000 euros, playing cards and playing chips as well as closed circuit television recordings.
The barrister said neither brother was licensed to organise the night for which players paid a £150 pay-in fee, a £20 registration fee, and a buy-in fee of £80.
Defence barrister, Mark Reel, said his clients did not conceal their activities and had discussed the matter several times with the police.
'Increasing kitty'
He said in the months leading up to the jackpot night, the kitty gradually increased.
Mr Reel said the seizure of the £20,000 jackpot money by the police had created "serious problems" for his clients who had been constantly approached by irate poker players demanding their jackpot money back.
The barrister said that a number of internal PSNI emails relating to the night were "confusing".
He said there was an absence of a definitive reply from the PSNI's legal department and one police email said they were "not really sure now" about what they were going to do.
Mr Reel said the actions of the police in relation to Texas hold 'em nights had put a lot of punters off, but no prosecutions followed earlier police searches of the River Club.
'Game of skill'
The barrister said the Court of Appeal had ruled that poker was a game of both skill and chance, whereas the Quinn brothers believed it was a game of skill and that belief caused them to break the legislation.
Mr Reel said running a game of Texas hold 'em was not illegal, but paying a fee to the organisers and card dealers was illegal.
The district judge, Barney McElholm, ordered the police to return almost £800 to the brothers and also to return to them a computer and a mobile phone.
However he said the jackpot money which consisted of the poker players stakes was to remain with the police until after a Proceeds of Crime Application was finalised.
Judge McElholm said it was reprehensible that irate punters had made approaches to the two defendants demanding back their money which was in the hands of the police.
He said he accepted there was a lot of confusion at the time about the relevant legislation relating to such a poker jackpot.