Queen's University scientists win space research grant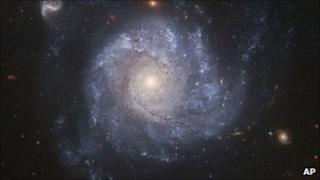 Scientists at Queen's University Belfast have been awarded £1.8m in grants for space research.
The scientists are based at the Astrophysics Research Centre at the university, but their planned research will take them as far afield as Hawaii.
The research will include searching for new planets, exploring mysterious 'dark matter', and studying the sun.
The grants were awarded by the Science and Technology Facilities Council (STFC).
This time last year, Queen's began putting together their bid, described as a "significant proposal", 30 to 40 pages in length, which took "several months" to prepare.
They faced stiff competition from a number of top institutions across the UK.
The planned research will involve the study of exploding stars, or supernovae, in Hawaii, and the observation of solar activity at a top US installation in New Mexico.
'Good news'
Professor Francis Keenan, head of the university's School of Mathematics and Physics, and principal investigator for the STFC funding package, spoke to the BBC.
He said: "Only work which is of truly international standing is funded (by the STFC).
"Obtaining such a large award in the current financial climate is good news for the university."
He hopes that the award will help Queen's to attract more students at undergraduate and post-graduate level.
The announcement comes at a time when popular interest in astrophysics is on the rise.
BBC presenter and particle physicist Brian Cox is gaining increasing amounts of publicity for the field, particularly with his recent series Wonders of the Universe which premiered on BBC Two this month.
Professor Keenan was enthusiastic about the work of Cox and others, and hopes that with continued funding, Queen's too can play its part in bringing science to the masses.
"Brian is doing a great job. Anything which enthuses people, in particular children, about the wonders of science, the importance of science to our lives, is a good thing," he said.