In full: Ryan Leslie judgement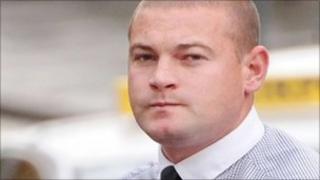 In February, Ryan Leslie, 26, was found guilty of murdering his 14-week old son and causing him grievous bodily harm.
Cameron Jay Leslie died in hospital in September 2008 after he suffered severe injuries to several parts of his body.
On Wednesday, the judge, Mr Justice Stephens, set Leslie a minimum tariff of 17 years in prison for the murder.
His judgement includes the background of the case and formed the basis of the sentence given to Leslie.
In October 2006 Leslie and Sheree Black started a relationship and she moved into his flat at Ballyvesey Green, New Mossley. She was then nearly 17 and Leslie was 23.
Cameron was born on 30 May 2008 and they lived together as a family until August 2008 when the relationship ended.
Sheree and Cameron left to live in her mother's house. Leslie remained living on his own at the flat they had shared.
Ms Black recognised the importance for Cameron of maintaining contact with his father and arrangements were made for direct unsupervised contact.
The judge said the first overnight contact was on 29 August 2008.
"During that time you squeezed Cameron's ribcage so hard with both hands that you fractured 14 of his ribs. The expert medical evidence was that when you caused those injuries to Cameron he initially felt pain and let this be known to you," he said.
"Any one else subsequently handling Cameron would have known he was unhappy but would not have known why.
"Prior to returning Cameron to Sheree Black you told her that 'Cameron was crying and crying his heart out'.
"On his return to his mother found that his routine was disturbed and he appeared to be upset and started him on Calpol, she had no idea as to why he was unhappy.
"It is now known that the reason was that you had fractured 14 of Cameron's ribs."
After this Leslie asked for further overnight contacts with Cameron and Ms Black agreed without any way of knowing what Leslie had done to him.
Cameron was taken to Leslie again on 2 September 2008 and remained there until he left in an ambulance two day later. He was first admitted to Antrim Area Hospital and was moved later that day to the Royal Belfast Hospital for Sick Children.
"Cameron was grievously unwell and he was pronounced dead on Saturday 6 September 2008," the judge said.
"He had 14 fractured ribs, massive brain damage, bilateral and extensive retinal haemorrhages, and bruising to many areas of his body."
The prosecution case at trial was that shortly before Cameron was admitted to hospital Leslie caused a severe blow to the back of his head thereby inflicting injuries from which Cameron died.
The judge said that Leslie's relationship with Ms Black was marked by physical and verbal violence on at least seven occasions.
The judge said that a striking feature of the case was how Leslie behaved when it became apparent that Cameron was seriously ill.
"You delayed seeking medical assistance for your son, then you did not assist the treating doctors with a history of what had in fact occurred to Cameron.
"Your attempts to avoid detection included telling what transpired to be the most preposterous and farcical lies to the police".
The judge said he did not accept Leslie's assertion that he "loved his son".
"I accept that you had some bond with your son but not to the extent that you claimed," he said.
"I consider that one of your feelings for Cameron was the use you could make of him in your relationship with Sheree Black."
"The judge said he had been provided with comprehensive, sensitive and eloquent statements from Sheree Black and Margaret Black, Cameron's maternal grandmother, as to the impact his death has had on them.
"The consequences for both of them, particularly Sheree Black, are of a marked and enduring character," he added.
"You have offered no truthful explanation as to what you did and when you did it. I consider that you lost your temper with a 14-week old baby your son, in response to him crying.
"You have demonstrated that you are a violent individual who has been unable to control his temper.
"Based on my assessment of you and on the report of the probation officer I consider that there is a significant risk that you will commit further specified offences and that there is a significant risk of serious harm to members of the public.
"I have determined in relation to the murder that the appropriate minimum term of imprisonment that you will be required to serve before the release provisions will apply to you is 17 years.
"This will include the time spent by you on remand. What, if any, further period you will spend in prison thereafter will be for the Parole Commission to determine.
"In relation to the offence of grievous bodily harm the appropriate minimum term of imprisonment is 4 years, to include the time spent by you on remand."
The two sentences will run concurrently.