Loyalist Philip Blaney jailed over Mater Hospital brawl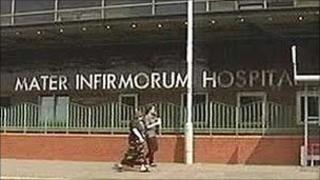 A convicted loyalist killer has been jailed for three years for fighting in a hospital in north Belfast while armed with a wheel brace.
Philip Blaney, 46, of Westland Road in Portadown, fought his brother-in-law, who was armed with a knuckle duster, in the Mater Hospital in August 2008.
Blaney was still on licence for the manslaughter of Elizabeth O'Neill in a pipe bomb attack in 1999.
The judge at Belfast Crown Court said his behaviour has been "deplorable".
Judge Gemma Loughran said that once Blaney serves half his sentence, he will be subject to a three-year extended licence period to protect the public.
"That the fight was in a hospital where people come to be nurtured for their suffering renders your behaviour quite deplorable," she added.
He was convicted in connection with the hospital fight at a trial last year during which the jury heard that he had become aware that his brother-in-law was coming to fight him, while armed with the knuckle duster.
He made arrangements to get a wheel brace and as the pair fought in the middle of the packed hospital reception, Blaney struck his brother-in-law in the head.
On Wednesday, the judge revealed that Blaney had a total of 64 previous offences including drugs offences, wounding with intent and causing grievous bodily harm with intent.
She revealed that one related to Blaney and another man breaking into the home of an 83-year-old man in south Belfast, binding him with cables before stealing a number of paintings.
She told the court that having read numerous reports and hearing evidence from a probation officer and two psychiatrists, she was satisfied that he did pose a risk.
However, she added that recent changes in his life, including a settled family environment, abstaining from alcohol and not associating with negative criminal peers, convinced her that he would engage with probation supervision to tackle his problems.