Armagh HCL call centre workers win lottery jackpot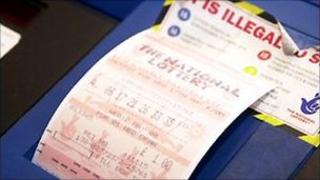 Five work colleagues in Armagh have won more than £750,000 between them in the National Lottery.
The five all work in the HCL call centre in Armagh and their syndicate was one of three winners of the £2.3m jackpot last Wednesday.
Their workplace was in the news on Tuesday with workers told to accept new terms of employment or face redundancy.
Syndicate member Greg Mallon said: "These are difficult economic times and we all realise just how lucky we are."
He added: "Many people are facing uncertainties and the win will obviously give us peace of mind."
Each of the five picked their own numbers for the Wednesday and Saturday draws and manager Brendan McLaughlin's six numbers came up trumps.
He said: "I picked my girlfriend's birthday, the date on which we met along with my birthday and my sister's birthday.
"The other two numbers were picked at random. We just couldn't believe it."
Two of the other five syndicate members are also managers at the call centre - Greg Mallon and Hong Kong-born Kenny Fong.
The other winners were Gillian Greer and telephone operator Declan Mallon.
Greg Mallon, 36, is the father of two young girls and the line manager of the other syndicate members.
He said: "We have worked together and have been friends for five years but it was only two weeks ago that we decided to start the syndicate.
"Up to then we had individual flutters and some of us had won now and again - but nothing on the scale."