NI hospitals fail to meet cancer target times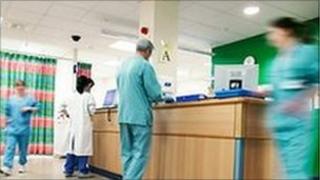 Northern Ireland's hospitals are failing to meet target times for the treatment of patients who have been urgently referred for suspected cancer.
The information has just been released by the Department of Health.
Its guidelines say 95% of patients should begin their treatment within 62 days. Last December, the figure stood at 81%, which was the third monthly fall in a row.
Breast cancer targets are also being missed, but by a smaller margin.
The target waiting time for a first assessment with a breast cancer specialist should be within 14 days.
In October, 93.7% of patients met that target, in November, 99% met the target and in December 99.6% were seen within the 14 days.