Paramilitary watchdogs IMC and IICD brought to close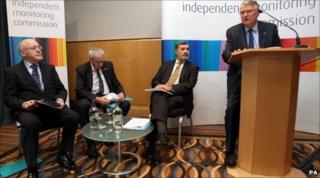 The watchdogs that oversaw the winding-down of paramilitary groups in Northern Ireland have been dissolved.
The Independent International Commission on Decommissioning (IICD) and the Independent Monitoring Commission (IMC) stewarded the dismantling of illegal arsenals.
They reported on the activities of republican and loyalist groups as part of the peace process.
The British and Irish Governments said they helped to deliver historic change.
They said they had played an important role in ending decades of violence in Northern Ireland
Boston College has been chosen as the repository for the archive of IICD. The documents were delivered to the Chestnut Hill campus last week.
Writing in the Boston Globe, journalist Kevin Cullen said the choice was seen as a compromise, following competition for the archive between British and Irish universities.
"Boston College's selection was seen as a compromise and as a recognition of the university's extensive, existing collection of material related to the decades-long conflict in Northern Ireland known as The Troubles," he said.
"Following the Good Friday Agreement in 1998 that saw the end of most of the violence in Northern Ireland, Boston College compiled lengthy oral histories with IRA volunteers and British loyalist paramilitary fighters, which are to remain sealed until their deaths."
Secrecy
The commission was chaired by Canadian General John de Chastelain and included Brigadier General Tauno Nieminen, a weapons inspector, and, since 1999, American diplomat Andrew Sens.
Much of its work was clouded in secrecy because of the sensitivity of getting the IRA, and later loyalist groups, to disarm.
Besides housing the personal histories of many of those involved in the Troubles, and now the activities of those who got them to disarm, Boston College has the private papers of Northern Ireland writers and poets, and the entire archive of Bobby Hanvey, a photographer who chronicled The Troubles in Northern Ireland for 40 years.
NI Secretary Owen Paterson said: "As requested by the UK and Irish governments, the IMC and IICD have provided both governments with reports on each commission's experience and lessons learned.
"Due to the pre-election period, the reports will be published after the assembly elections in May on a date to be agreed by both governments."
Commenting on the dissolution of the IMC, Sinn Fein's Raymond McCartney said the "excessive amounts of public money wasted on the IMC should now be redirected to frontline services".
"The IMC was established for no other reason than to give political cover for anti-republican unionism and has proven to be a money spinner for those involved with vast amounts of public money, to the tune of millions, being wasted on this organisation," he said.
"It has no basis to exist under the architecture of the Good Friday Agreement, had no role to play in the political process and will not be missed."