Dernawilt Road, Roslea, bomb alert declared hoax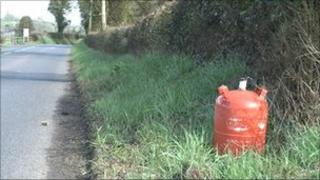 A security operation in County Fermanagh which began on Thursday morning has ended.
It followed the discovery of a suspicious object on the Dernawilt Road, Roslea, shortly after 0800 BST.
The alert has now been declared a hoax and the road has been reopened. The object which prompted the alert was a gas cylinder with wires attached to it.
"They knew they were going to cause disruption to the local community," PSNI Chief Inspector Alwyn Barton said.
"I would ask the local community within the Roslea area to consider the intention of causing disruption by the people who left this item, balanced by the significant efforts taken by the police to try and keep that disruption to a minimum."