Jailed NI man admits sexual abuse of step-daughters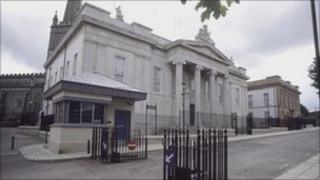 A 62-year-old man has been jailed for sexually abusing his neighbour's two daughters whilst babysitting them.
The defendant, who cannot be named to protect the identities of his victims, then married the girls' mother and continued to abuse them over a period of 10 years.
The girls were both of primary school age when the abuse began in 1993.
The man was sentenced to 18 months in jail after pleading guilty to 24 charges of indecent assault.
A further 19 charges, also of indecent assault, were left on the court files.
Londonderry Crown Court heard that one of the girls was abused as her mother lay asleep beside her.
Judge Piers Grant described the defendant as a sexual predator who was "grooming these children for (his) own disgusting desires".
Judge Grant added that it was clear from a victim impact report that both girls were still disturbed by what had happened, and that one sister had suffered from "chronic post-traumatic stress".
The sentence also includes a three-year probationary period, and the man was placed on the Sex Offender's Register for 10 years, and banned from unsupervised access to children.