Belfast City Airport challenge to proceed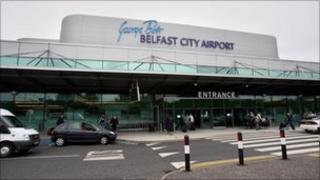 A legal challenge to the lifting of a cap on passenger numbers at Belfast City Airport is to proceed to a full hearing, a High Court judge has ruled.
Belfast International Airport was granted leave to seek a judicial review of the decision to remove the annual seats for sale restrictions.
A residents' group, Belfast City Airport Watch Ltd, has issued similar proceedings.
The decision on passenger numbers was announced by Edwin Poots in December.
The environment minister said he had decided to lift the limit of 2m seats a year "after careful consideration".
However, lawyers for the international airport claim the minister's decision was unlawful and failed to take into consideration environmental information.
A further ground of challenge centred on claims that the seats restriction was removed without checking whether there was an effective noise control system and an improved noise management system in place at Belfast City.
David McMillen, for the department of environment, insisted, however, that the minister did consider the environmental impact.
He added that a statutory process involving consultation was carried out.
"But in fact the minister went further than that - he consulted with the other interested parties," Mr McMillen said.
A full hearing of the challenges brought by Belfast International and Belfast City Airport Watch Ltd has been scheduled for three days in June.