Fermanagh bans landfill waste in favour of recycling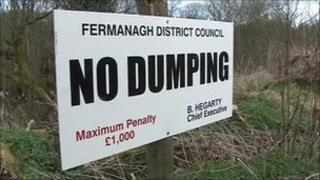 Fermanagh District Council has said it will no longer accept waste for landfill at its amenity sites.
People will only be allowed to bring rubbish that has been separated for recycling.
Last year Fermanagh recycled over 30% of its waste, but the rate must increase to 50% or the council will have to pay big EU fines.
Director of technical services Gerry Knox said he hoped it would encourage people to recycle more.
"It's not something that this council has imposed but is a requirement from the European Union that we do divert waste from landfill and increase our recycling targets," he said.
Last year, 8,000 tonnes of waste brought to recycling centres were landfilled at a cost of £800,000. Collection costs were an additional £160,000.
The amount the council is allowed to landfill has also been cut from 25,389 tonnes in 2010/11 to 17,345 tonnes in 2012/13 with penalties of £150 for every tonne exceeding the target.
Fermanagh District Council was the first in Northern Ireland to have a blue bin kerbside collection for recyclable waste on alternate weeks.
Before it started nine years ago, only 5 or 6% of waste was recycled. That has risen to just over 30%.
There have been concerns that removing the skips could lead to more illegal dumping.
Just a few miles from a council recycling centre in Lisbellaw, people have ignored the No Dumping sign and warning of a £1,000 fine.
Builders' rubble, grass cuttings, children's toys and used nappies were left along a 50-yard stretch of road. Black bin liners lay half-submerged in a nearby watercourse.
Mr Knox said there was an issue with illegal dumping, but it was not as bad as people may think.
He said when the council became aware of a problem it would clean up the area within seven days.
The council accepts that sorting waste would be an inconvenience to residents, but it believes that, in the long run, it will save money.