Derry illegal drugs supply charges reach record level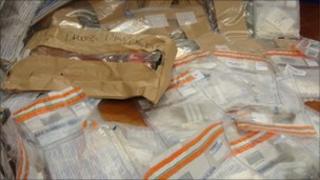 The number of people charged for supplying illegal drugs in Londonderry has reached a record level.
Over the past 12 months, the police charged 37 people for supplying cocaine, ecstasy, amphetamines, mephedrone, and cannabis in the city.
The police seized 6,200 ecstasy tablets in Derry between April 2010 and the end of Feb 2011, more than anywhere else in Northern Ireland.
They said they hoped their work would deter people from dealing in drugs.
The PSNI said the total value of the drugs they seized amounted to "six figures".
Drugs searches increased by 50%, and there were 105 planned house searches.
Acting Chief Inspector, Jon Burrows, said it was his "most successful year to date", but there was much more work to do.
"We will never win that overall war against drugs," he said.
"It is not simply a policing solution and I would not say we can eradicate drugs, but we can make a difference.
"We can make it more difficult for people to deal in drugs.
"We can make it less likely people are taking drugs on a Friday and Saturday night."
He said that a range of people had been put before the courts.
"You need the big fish," he said, "and it's important in our operation we target them and organised crime groups, and that we also target those people who are dealing drugs."