Ex-policeman gets life for Annabella Symington murder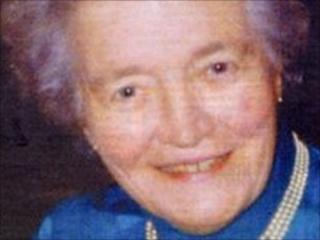 A former police inspector has been jailed for life for murdering a wealthy widow in south Belfast in 1989.
Kenneth Mark McConnell, 59, from Prospect Downs, Carrickfergus, who was a gambling addict, killed Annabella Symington in a botched robbery.
Mrs Symington who was 80, was killed when McConnell forced a cardigan sleeve into her mouth to stop her screaming.
McConnell, 59, was said to have discovered the south Belfast pensioner had money after befriending her niece.
Mrs Symington's body was discovered by a neighbour at her Willesden Park home in the Stranmillis area of the city on 31 October 1989. She had died due to mechanical asphyxiation.
At Belfast Crown Court on Friday, McConnell wept as he admitted killing the pensioner.
He spoke only to confirm his name and to plead guilty to the murder and to taking £200 from Mrs Symington's purse.
A defence lawyer said he felt there was sufficient detail in McConnell's background which would benefit from an analysis from the probation services. Two medical reports would also be handed in for the court's consideration, he said.
The judge, Mr Justice Hart, told McConnell that the law only permitted one sentence, life imprisonment. He said he would decide next month on the minimum tariff he must serve before being considered for release.
No details of Mrs Symington's murder were given to the court.
A prosecution lawyer did provide the court with a copy of McConnell's criminal record, which includes a blackmail conviction.
McConnell was arrested and charged in January 2010 after nail clippings taken from the victim at a post-mortem examination were looked at again.
These produced a profile which led to a sample being taken from him and sent to forensic science experts in England.