5,902 gorse fires in Northern Ireland last year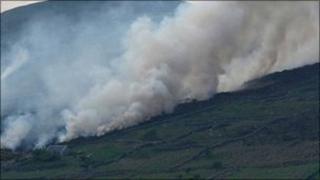 The NI Fire Service attended nearly 6,000 gorse fires last year, more than double the figure for the previous 12 months.
In 2010, fire crews in Northern Ireland attended 5,902 gorse fires compared to 2,291 in 2009.
Chief Fire Officer, Peter Craig, said people who started fires deliberately were putting lives "at risk".
Last week, fire crews responded to 289 gorse fires - it is believed the vast majority were deliberate.
"The community in Northern Ireland needs to decide where they want their Fire & Rescue Service," Mr Craig said.
"Up mountains tackling deliberately set fires or at their local fire stations ready to deal with life-threatening emergencies and protecting our community.
"When individuals decide to deliberately go out into our countryside or up our mountains to start fires deliberately they are putting not only firefighters lives at risk but also everyone in the local community."
He also said that gorse fires could be caused unintentionally "by thoughtless and careless behavior" and urged the public to follow guidelines such as extinguishing cigarettes properly, only using barbecues in safe areas and putting glass in bins.
The NI Fire Service is launching a new television advertisement on Friday to highlight their message.