Londonderry bomb alert caused by 'elaborate hoax'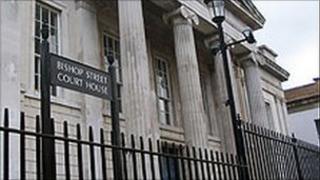 Police investigating a suspicious object in Londonderry have called the item "an elaborate hoax".
Earlier Army bomb experts carried out a controlled explosion on the device, which was found in a car park on Bishop Street near the city's courthouse.
Police have said the security alert is now over and car owners can return to their vehicles.
Businesses and the courthouse were evacuated on Friday in the second security alert in the area this week.
Last Sunday, a 50 kilogram bomb was found in the same car park.
Superintendant Sam Donaldson thanked the local community for their patience.
"I and my colleagues recognise the stress and inconvenience caused to people of the city going about their normal routine and I apologise for the continued disruption," he said.
"We must recognise that the real responsibility for the disruption to all our lives today should be place firmly at the door of those who left the device."
The woman who found the device said she had walked past it twice.
The woman, who asked not to be named, said when she spotted the suspicious object at about 1100 BST at the back of the car park she thought it was her imagination running away with her.
"There was a device lying on the tarmac," she said.
"It appeared to me like a small fire extinguisher, but it had taped onto it a black box device like the back of a clock that you would find that looked like a mechanism with batteries."
Suspended
She showed the device to a car park attendant who raised the alarm.
"I think I even volunteered to drive the car park attendant round to where the device was lying to show him, and when I think about it I could have upset that device and even allowed it to rock or roll and it could have gone off.
"I'm home now thinking about it, and I think, dear God, how stupid."
Court reporter, Eamonn McDermott, was in Bishop Street Courthouse when the alert started.
"We were standing outside when we noticed that the car park attendants had stopped cars coming into the car park, and then the court security staff said there was a suspect device," he said.
"They put us all inside and started evacuating out the side doors."
There were four court sessions scheduled to take place in Bishop Street Courthouse on Friday, and they have all been suspended until Monday.
"For anybody who is appearing in court it's a major experience, and a major trauma," Mr McDermott said.
'Look forward'
Mark Durkan, the SDLP's Foyle MP, was asked to leave his office on Bishop Street.
"If it's a real bomb it's intended to damage," he said.
"If it's not a real bomb it's intended to disrupt and put people off their everyday business.
"We have streets cordoned off. We have business not able to function, people not knowing where they are."
The DUP's William Hay condemned those behind the incident.
"These people are not listening.
"They are destroying the entire economic life of the city centre, driving jobs away; they are achieving nothing else."
Sinn Fein's Patricia Logue said it would achieve "absolutely nothing".
"Whatever group is behind the disruption need to reflect on the political realities of Ireland in 2011.
"They need to come forward and tell the people of Derry how this will advance the goal of a united Ireland."
Mary Hamilton, who represents the Ulster Unionist Party, asked when were these incidents going to stop.
"They're disrupting the traffic; they're disrupting the people.
"I would like to ask them what are they trying to achieve, in a city which is now a city of culture, which is trying to look forward?
"This is putting our city back."
The device found in the same area on Sunday was described as a beer keg containing home-made explosives.
The police said it "could have caused death or serious injury".