Colin Duffy in Supreme Court challenge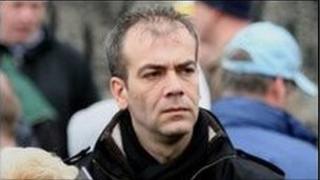 A well-known republican accused of the Real IRA murders of two soldiers is taking a legal challenge to the Supreme Court over his time spent in custody.
Senior judges in Belfast agreed to the challenge by Colin Duffy, 43, from Lurgan and three unidentified others.
Mr Duffy, 43, from Lurgan, is accused of the murders of Sappers Mark Quinsey, 23, and Patrick Azminkar, 21, at Antrim army barracks in March 2009.
He has already failed to win a court challenge based on human rights.
Earlier this year, he and the other suspects failed to win a court declaration that the period they spent in detention before being charged contravened human rights laws.
Under the Terrorism Act 2000, suspects can be kept in custody for up to 28 days before either being formally accused or released.
Lawyers for the men claimed that relevant sections of the legislation were incompatible with their right to liberty under the European Convention on Human Rights.
However, a three judge panel headed by Lord Chief Justice Sir Declan Morgan has now agreed to certify questions for the Supreme Court on a point of law of general public importance.