Gerry McGeough: convicted gunman given reference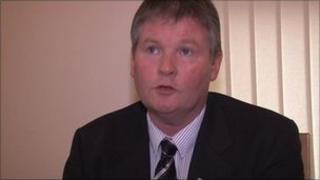 A reference from a member of the Northern Ireland Executive was read out on Friday for former IRA man Gerry McGeough ahead of his sentencing.
McGeough was found guilty in February of the attempted murder of an off-duty UDR soldier 30 years ago.
Sammy Brush, a former postman, was shot while delivering letters in 1981.
At Belfast Crown Court, a defence barrister said Agriculture Minister Michelle Gildernew had said McGeough posed no threat to the peace process.
A Sinn Fein spokesman said Ms Gildernew's reference was first given at a bail hearing more than three years ago.
McGeough, who had his arms folded throughout Friday's proceedings, appeared via video link from Maghaberry prison.
The 52-year-old was also convicted of possessing firearms with intent and holding IRA membership in relation to the attack.
A bullet-proof jacket saved Mr Brush's life and he returned fire with his own personal protection pistol, wounding McGeough.
McGeough, of Carrycastle Road in Gortmerron, Dungannon, will be sentenced next week.