Review into Dr Brian Crowe role announced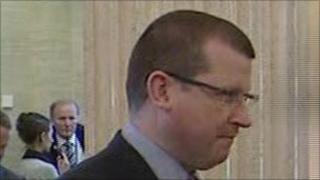 A review of Dr Brian Crowe's involvement and influence as a special adviser to the employment minister has been announced.
Earlier Dr Crowe, who was sacked following the Belfast Telegraph's allegations about his private life, issued an apology.
He said his habitual use of online pornography and chat rooms had caused immense hurt to those he loved most.
The review of his role was announced by the minister Danny Kennedy.
It will be carried out by Pat Toal who has been a member of the Northern Ireland Civil Service for 39 years.
The minister said it was vital public confidence was maintained in "the integrity and transparency of government".
Earlier, Dr Crowe said he would like to "apologise wholeheartedly to his wife and thank her for her support at this time".
Betrayed trust
He also said he had betrayed the trust of Mr Kennedy.
Dr Crowe, who is now receiving psychiatric treatment, also apologised to the Ulster Unionist Party and the Church of Ireland Bishop of Connor.
He had been an unpaid Church of Ireland minister but was stood down last week when news of this scandal broke.
He admitted forming an online relationship and exchanging inappropriate photographs and engaging in a series of online conversations which he says he viewed as "fantasy chat."
Dr Crowe said he had told this person that he delivered political favours for sex but that was untrue.
He said he was indulging in what he described as "a disordered online fantasy."
In the statement Dr Crowe said he accepted that his behaviour was "entirely wrong".
"I have indicated to the Diocese of Connor that I will accept without qualification or reservation the discipline and judgement of the relevant ecclesiastical authorities.
"Despite the manner in which I have profoundly betrayed my family's trust, I would now ask the media to respect our privacy and give us the space and time to attempt to rebuild our lives."