Ex-Miss NI teacher Joanne Salley in topless photos row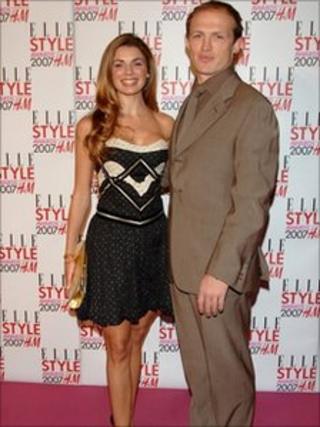 Harrow School has stood by its art teacher, a former Miss Northern Ireland, after photographs of her posing topless were circulated among pupils.
Joanne Salley, from Dungannon, is a former model and TV presenter and was photographed in two provocative shots wearing just a pair of jeans.
The pictures were taken by Fiona Corthine, within the grounds of the school where she and Miss Salley both live, in what a school spokeswoman described as an "art project".
Headteacher Barnaby Lenon said the matter was being investigated.
"These pictures were stolen and passed on to some pupils at the school without the agreement of the photographer.
"Miss Salley is a long-standing and successful art teacher at Harrow who has, in the past, been a model," he said.
"Photographs of her modelling were taken by a professional photographer who also teaches photography part-time at the school."
The spokeswoman said the pictures were stolen by a pupil, who is thought to have found them on a memory stick in the photography laboratory.
She dismissed reports that the majority of the school's pupils, teachers and kitchen staff had seen the photos.
She also said reports that Miss Salley had left the school in a flood of tears were "definitely untrue", adding: "She hasn't left the school.
The spokeswoman was unable to confirm Miss Salley's whereabouts on Friday.
"They're on end-of-term timetable. I have no idea whether she is teaching or not - she may not have had any classes in her timetable but if she's supposed to teach, she's probably teaching."
Harrow School, founded in 1572, has male pupils aged from 13-18.